It's fitting that George Santos, if that's really his name, is being swarmed by cameras and asked tough questions. The election of a member of Congress who looks to have fabricated almost all the details of his life is alarming. 

At the same time, what I haven't seen ONCE are questions of every member of the Ohio Congressional delegation…. about the fact that they were elected on maps that a bipartisan Ohio Supreme Court ruled were in violation of the Ohio Constitution. No court has ruled otherwise.

That contrast in scrutiny is a perfect example of how we like to focus on the politics of personality but how we don't focus nearly enough on the institutional attack on democracy and its consequences. That blind spot and the failure to ask those tough questions on weeks like this week—when all these people assume power and take oaths to follow constitutions—ultimately normalizes it all. 

Every member of the Ohio Congressional delegation should be asked directly about the unconstitutional map by which they were elected: How do they explain it to their constituents? Do they feel legitimately elected when the underlying map is illegal? What should be done, and can they do, to ensure such a lawless situation doesn't happen in the future?

These are not gotcha questions. They're appropriate. They need to be asked.
And their answers will tell us a whole lot. 
For example, here's a tweet from an Ohio State Representative in response to my raising this question: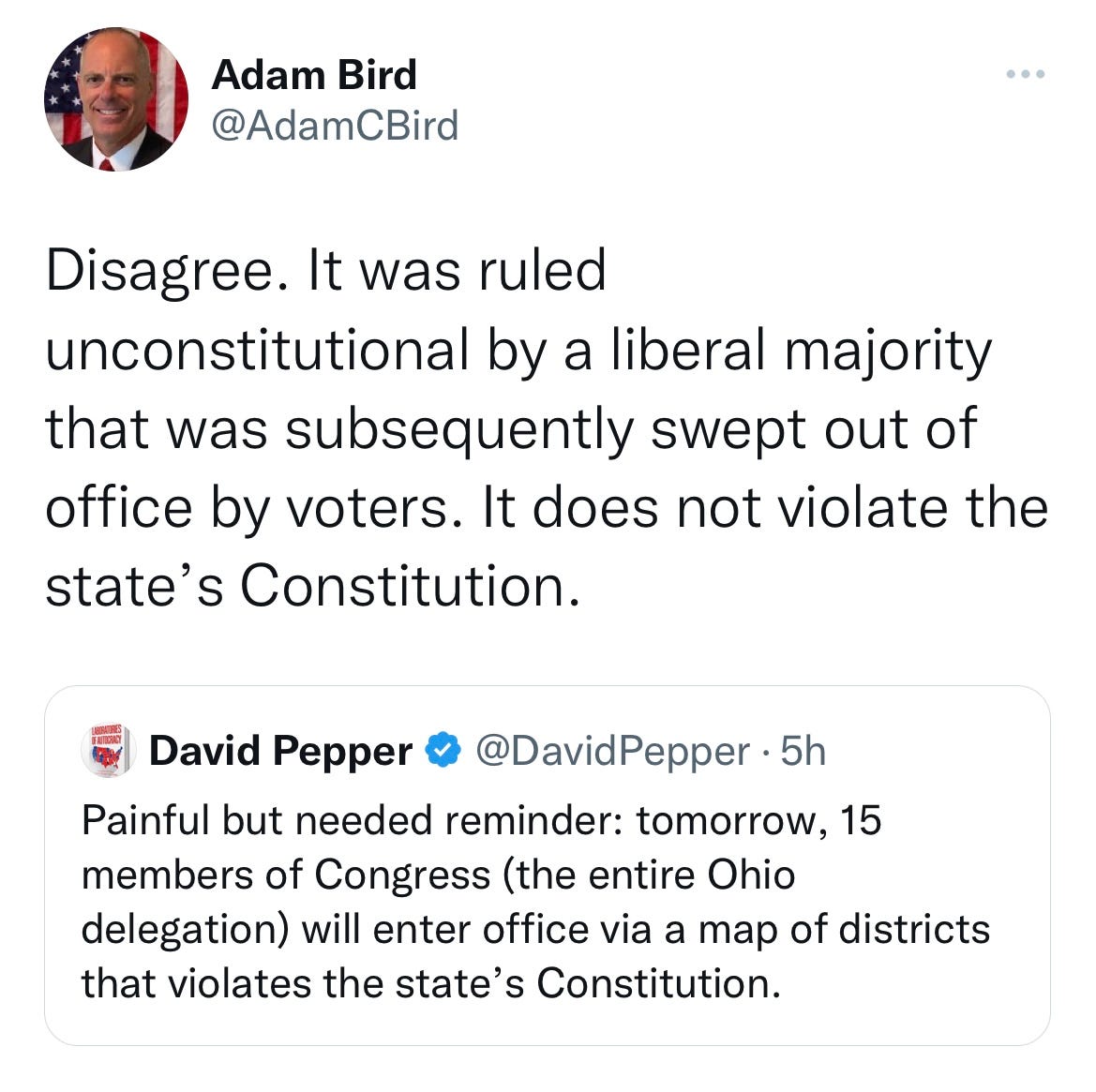 Read that closely: A sitting state representative is dismissing a court ruling as "liberal" (never mind that the crucial vote was provided by a life-long Republican), which he suggests means the ruling is somehow not valid and can simply be ignored. Then he suggests that an election that followed (after rules were changed in how Ohio's judicial elections are conducted!) somehow erases that court ruling, even though there hasn't been a subsequent ruling. 

Needless to say, that entire justification is an affront to the rule of law. And it's just out there, in the open. 

My guess is many would answer with an equally lawless justification. 

But as unsatisfying as it is to hear such disturbing answers, the only thing worse is that the questions are not being asked at all. THAT silence legitimizes the open lawlessness of it all more than anything.

And that's what those attacking democracy want above all else.

*published with permission from David Pepper. Visit his newsletter, Pepperspectives.