*Published with the generous permission of David Pepper. Read and watch his excellent work at Pepperspectives.

By David Pepper

A year ago last week, within an hour of the Dobbs decision, Ohio's Attorney General (Dave Yost) rushed to federal court to remove the injunction on Ohio's six-week abortion ban, which has no exceptions for rape or incest. The ban had previously been struck down as an obvious violation of Roe, but per Yost's motion following Dobbs, the federal court felt compelled to reverse course. And the ban immediately became law in the state of Ohio.

Within weeks of Yost's frenzied activity, which he gloated about on social media (here)…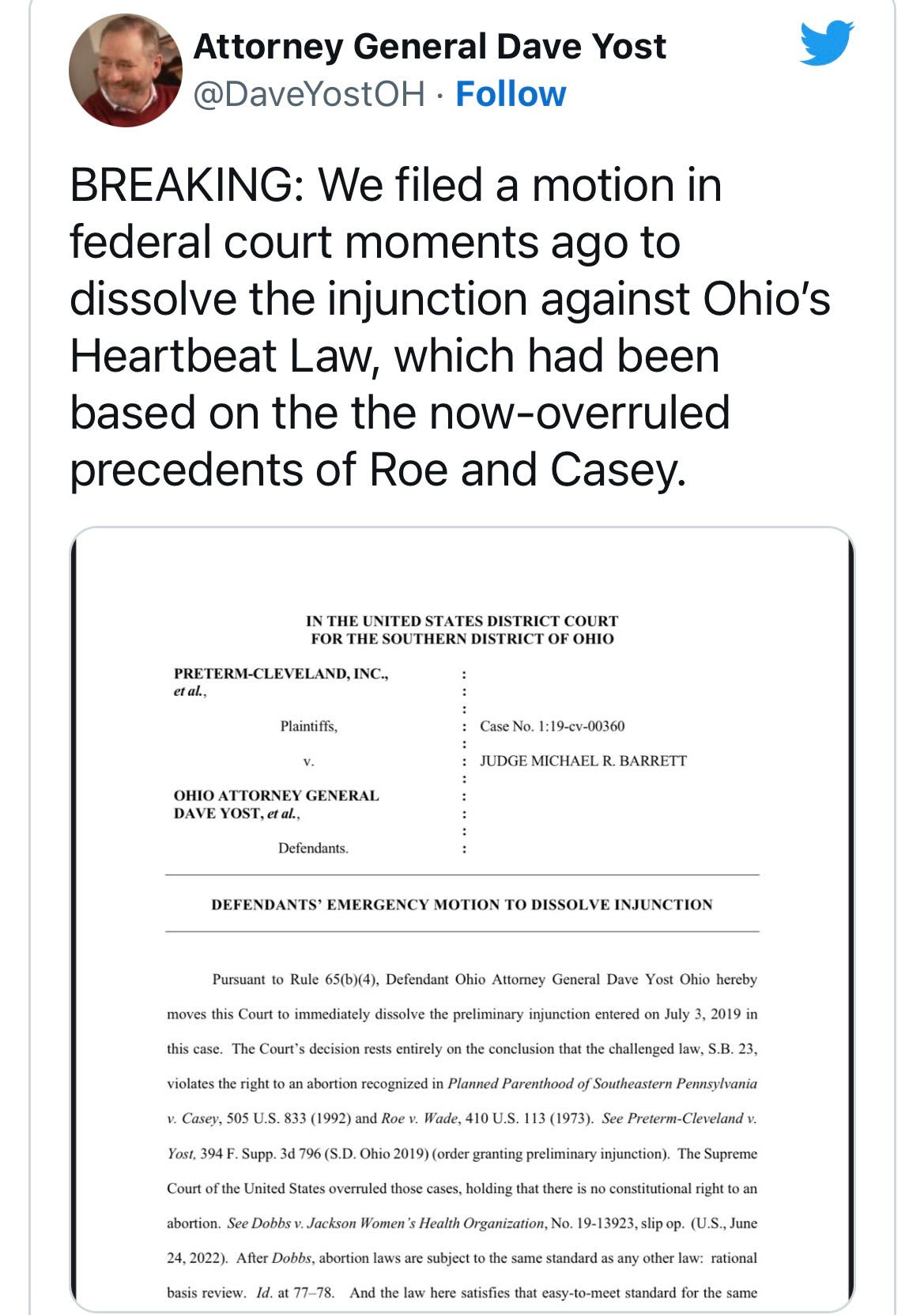 …and as the nation reeled from the shock of 
Dobbs 
and its impact, perhaps the most searing and high-profile repercussion arose in Ohio. A story emerged from Indiana of a ten-year-old rape victim (nine at the time of the rape) from Ohio, impregnated by that rape, being forced to travel to Indiana for the abortion care she could not get in Ohio.
In swooped AG Yost again. 
To advocate for the victim of such a heinous crime? (which is, after all, one of the core responsibilities of an Attorney General).
Nope. 
To gaslight her in front of the entire nation.
That's right, he ran to national TV—FOX News, of course—and cast doubt on her story—and even her existence. He told Jesse Watters that there is 
"not a whisper" of evidence to support the story
, and elsewhere suggested that it was potentially a "fabrication" and that there was not a "damn scintilla of evidence." And then, creating the false impression that the Attorney General has his ear to the ground of all law enforcement cases in the state, he added: "I know our prosecutors and cops in this state, there's not one of them that wouldn't be turning over every rock in their jurisdiction if they had the slightest hint that this occurred." But, Yost said: "There is no case request for analysis that looks anything like this." But he wasn't done, as he also lashed out at the Indianapolis paper for running the story at all—
"shame on the Indianapolis paper that ran this thing on a single source who has an obvious axe to grind."
So, the guy who rushed to court to make sure an abortion ban, no exceptions for rape or incest, became the law of Ohio immediately, rushes to a national propaganda network, speaks authoritatively as Attorney General (even inflating the role he plays regarding the day-to-day work of law enforcement), all to 
cast doubt on a story that had demonstrated just how horrific the consequences of his own actions (and such extreme laws) are
. It shouldn't even be a story, he yelled.
Others like Jim Jordan jumped into the gaslighting frenzy, and within hours, the entire nation was being told that the story was false. Unsupported. Made up by the left. And that Joe Biden had been misleading the nation when he brought it up.
Well, wouldn't you know it?
The very next day, in the very same county where Ohio's Attorney General office is based—ie. right under the nose of Yost, who had claimed to know the goings on of law enforcement across the entire state—
the 
Columbus Dispatch 
broke
 the story that a man was being charged 
that day
 with the exact crime that Yost said there was no evidence of. Columbus police had actually known about the case after the victim's mother had filed a report weeks before with a local children's services agency.
So, yes, it was all true!
When interviewed later, Yost 
refused to apologize for his appalling behavior
, daring to say: "I don't understand what you think I need to apologize for." 
(Watch his response here. Awful
). Jim Jordan also refused to apologize.
Even though these two Ohio officials failed in their effort to make the story go away, Indiana Attorney General Todd Rokita picked up the baton from there, doing all he could to punish the Indiana doctor who treated the young Ohio victim and spoke about the case. Sadly, his effort did lead to a fine, although the suspension Rokita sought was rejected. 
Again, the goal of all these officials is to do anything they can to blur the tragic consequences of their extremism from alarming and mobilizing Americans to stand up against them. 
 Whether it's questioning victims themselves—not just their stories, but their very existence—or punishing those who treat them, or scolding newspapers for covering their stories, they want those stories to be lost, or questioned, or doubted. They want them to just go away—censored out of the conversation—so Americans don't see the consequences of their horrific policies. And they even use the official nature of their roles to lend legitimacy to what were clearly highly politicized missions.
And if that means publicly running over a child victim of rape, or a doctor who treated her, or going to politicized and fact-free national media outlets to undermine local media for (thank goodness) doing their difficult jobs, so be it.
It's all disturbing. Sick.
But guess what? In this instance, they failed. Yost failed.
Once local journalists confirmed the story (yes, a reminder of why local journalism is so damn important), the young victim's case continued to gain national headlines. It became one of too many real-life examples of the tragic and unjust consequences of Dave Yost's and Jim Jordan's and so many extremist legislatures' policies.
And it became one of the events that so horrified Ohioans that it sparked an incredible grassroots effort to gather signatures to amend Ohio's Constitution as soon as possible—
to protect women and girls in the future from the appalling treatment that that young victim received in Ohio.
 And to give back to women and girls the rights they possessed pre-
Dobbs—
and to 
keep them from being caught up in a world where the likes of Yost and Jordan and those extremist politicians get to dictate their reproductive choices—and even force full-term pregnancies and delivery on children impregnated by rape.
Motivated by all this, grassroots activists from across party lines have been organizing a ballot initiative, then passionately working to gather signatures, to amend the Ohio Constitution—and to override the extremists. It's been a herculean and inspiring effort. Overcoming the doubts of many, who said it couldn't be done in such a short time frame.
And yesterday, the groups organizing the initiative (Ohio Physicians for Reproductive Rights and Ohioans for Reproductive Freedom) 
turned in more than 700,000 signatures(!) to get that Amendment on the ballot
. That is a whopping number in a short amount of time from a group that didn't even exist a year ago. And it triggers the final stages of the process of getting this Amendment on Ohio's November ballot.
And, because the world often works this way, something else happened yesterday as well.
Just blocks from the submission of those petitions, within hours of those signatures being filed, the rapist whose very existence Ohio's Attorney General proactively tried to convince a national audience didn't exist, 
pled guilty to the rape of that young Ohioan
. 
And he will be in prison for the rest of his life. 
And the national news carried the story.
Yost may never apologize for trying to make that tragic case go away…but we will never forget what he tried (and failed) to do.
And we will end this entire nightmare when we defeat Issue 1 in August, then Vote Yes for Reproductive Rights in November.
Please do whatever you can to make it so. And never stop fighting for democracy!
Be sure everyone sees what these people are doing!